Karaoke Hire Christchurch
System:
1 x 14 inch Screen on the Karaoke System.
(Additional 21 inch Flat Screen TV available at NO extra cost)
2 x Microphones (great for speeches as well)
2 x 1200 Watt Wharfedale Pro Speakers
No handling of disks (push button system) - Easy instructions.
2 x Quick reference song books in artists and song order.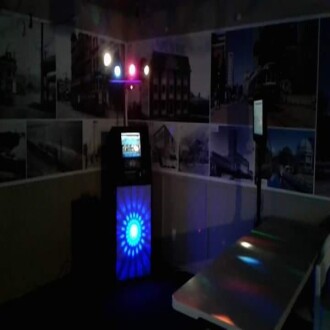 Light Show:
included in the price.
Turn your lights on or off to create your mood.
Coloured lights for the dance floor area and/or a mirror ball effect on the ceiling.
T-Bar of lights: 1 x Laser light, 4 x Projector lights (patterns around the room)
Video plays, while words scroll at bottom of the screen.
Over 1400 songs from such artists as Frank Sinatra, Amy Winehouse and Pink.
We deliver on the day of your function and pick up the next day.
No deposit required. Payment at time of delivery or by internet banking
on the week of your function.
$250 (delivered in Christchurch city area) extra for out of town.
Check out our dedicated Karaoke Facebook page
No hassles, just great entertainment that everyone could enjoy
For our office Christmas party, we hired a karaoke machine, which came with lights, an extensive list of songs, a tv screen, and 2 mics all for a great price! This was the best part of the whole night.. and man! people showed sides of them that we had never seen! I would definitely recommend Canterbury Entertainment if you're looking to hire a karaoke machine. The playlist of songs brought us back to the younger days but also had modern songs! Thanks for your prompt delivery and pick-up!